First of all:
Basic RP rules:
No cloning
Do your best at grammar.
No godmodding.
No minimoding
ect.
Next:
Put somehting like this on your signature. This won´t take space from your usual signature limits.
Odesey Party:
Spoiler:
Please follow the rules!
Holy,this sprang up overnight.I can't believe I didn't see this.

Imma adopt a Pogemanz naow.
BTW,will you give me one of those banners when you give me my Eevee?
Last edited by Rascal401 on Wed Apr 21, 2010 8:33 pm; edited 1 time in total (Reason for editing : I noticed something.XD)
_________________
If anyone wonders,I AM A GIRL.
http://my.gpxpl.us/Rascal401
<-Too lazy to update.->
http://dragcave.net/user/angel401
Click.
Avi and sig pic by Rika.

Rascal401

Admin





Posts

: 74


Friend Links

: 1


Join date

: 2010-03-11


Age

: 20


Location

: You would NOT want to know,you stalker!



BTW,will you give me one of those banners when you give me my Eevee?
Here is how you make tyhe spoiler:
click the others button:
Then click the spoiler button: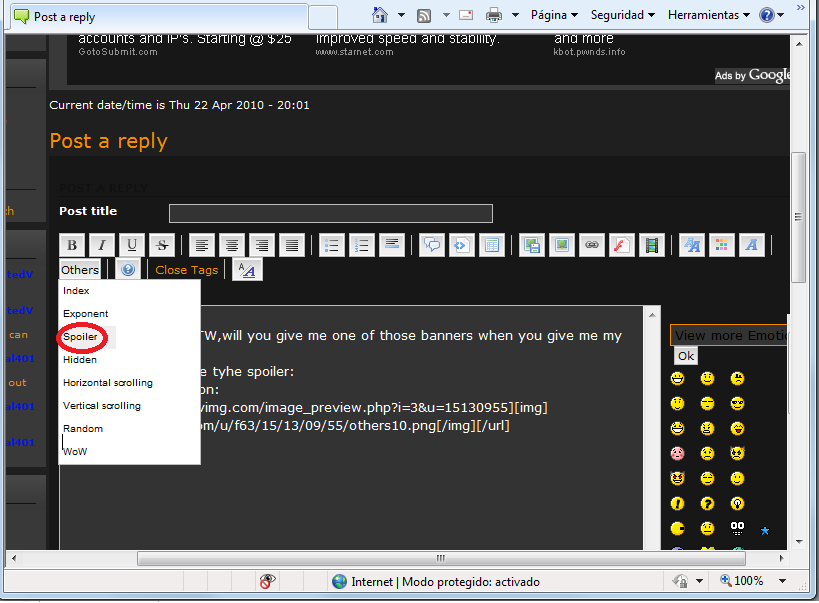 You´ll get this:
Code:

[spoiler][/spoiler]
Then do something like this:
Code:

[spoiler]
[color=black]Pokemon:
[url=http://www.servimg.com/image_preview.php?i=2&u=15130955][img]http://i63.servimg.com/u/f63/15/13/09/55/258mud10.png[/img][/url]
Gender: Female
Name: Lyra
Lvl5

Backpack:
pokeball: 10
Money: 500p[/color][/spoiler]

You have to edit this when you get new items or pokemon.
Hope this answered your question!
New rule:
You will decide when you level up but please, be realistic, nothing like "I fought a level 3 carterprie and my Eevee leveled up from lvl5 to lvl10!" Also, be descriptive with your battles!
Earning poké:
When you battle a trainer (Whenevwer you want.) you can win from 75p to 500p, whne you battle another player you can get from 100p to 1050 depending on the amout you decided to play. When you lose a PvP battle you pay the money you promised to the winner.


Similar topics
---
Permissions in this forum:
You
cannot
reply to topics in this forum